Parody-fuelled, fourth wall breaking, Retro City Rampage DX has finally been released for the Nintendo Switch, and boy, newcomers are in for a Ride!
Retro City Rampage has been out for some time on other platforms, with stellar reviews. So I am not going to bore you with a long review, as many of you have already played the game. However, for the newcomers, I will detail highlights of this little big game.
Presentation:
If you would have told me 10 years ago that in 2016/2017, the gaming market would be flooded with indy retro games, I would have laughed in disbelief. Retro gaming (and retro style games) has exploded in the last 6 years.  It's getting harder and harder for a retro-inspired game to get recognition, not because they are retro in style, but because there are retro looking games coming out every week. Fortunately, indie developers have worked particularly hard to keep these games fresh and exciting.
Open world action-adventure video game Retro City Rampage originally came out for the PlayStation 3, PlayStation Vita, Microsoft Windows, in 2013, and became instantly popular due to its parody of 80's pop culture, and top-down Grand Theft Auto appearance.
Fans cheered in excitement, when a refreshed version was announced for the Nintendo Switch, back in July 2017. The game was announced both as a Nintendo eShop release and a limited physical copy including a collectors edition. The fan response was overwhelming. Physical copies sold out almost immediately, publisher VBlank couldn't keep them stocked.
Even without much promotion, Retro City Rampage DX has sold very well and has a plethora of positive reviews both on YouTube and on gaming websites.
With the success of the original release, VBlank knew how to target that specific nostalgia-hungry fanbase, and did it brilliantly by offering physical copies with additional content.
Design: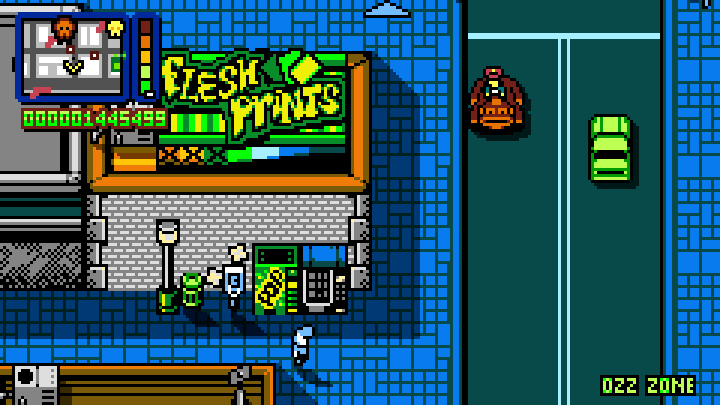 The design and look of the game are very straightforward. It takes an open world top view concept, much like Grand Theft Auto, and flips it on its head by adding wacky mechanics, insane weapons, and story-driven missions. The controls are fairly simple, jump, shoot, etc., without adding too many confusing button options. VBlank tried to keep it simple and focused on the fun factor by making it easy to pick up and play without having to learn any special mechanics. I had no problem getting into the game, without worrying too much that I was going to hit the wrong button. 2 minutes in, I had them memorized.
Graphics:
Well, what can you really say about a retro style game that was created in the age of intense special effects and high-end graphics? You have to take for what it is, a retro-style game. With that said, it doesn't mean it goes free from scrutiny. You can actually fail and making a game feel retro. That was not the case here.
VBlank created a very visually pleasing retro game. It takes bits from Grand Theft Auto, Teenage Mutant Ninja Turtles (NES), and other similar top view games.
Story:
Without spoiling too much, the plot itself is not remarkable or noteworthy, however, that doesn't mean it is not fun and entertaining. The game is not meant to intrigue you like Bioshock Infinite, but make you laugh like Battletoads. With that said, the game brilliantly pokes fun at 80's games through its dialogue and familiar faces. You will see characters that look similar to Teenage Mutant Ninja Turtles, Doc Brown, Solid Snake, Mario, Donkey Kong, and many others. there a parodies around every corner and door.
How many can you spot?
Replay Value:
Retro City Rampage DX is an easy game to play on the go and is perfect for playing in small doses. Apart from the main story, the player can complete a host of side quests ranging from time trial based killing sprees, challenge them to complete certain conditions such as blow up as many civilians with rocket launchers in under a minute or running around on fire and spreading the it to other civilians by running into them, and outrunning the cops. There is plenty to go back to, so the replay value here is fair to high.
Conclusion:
Retro City Rampage DX is a very solid game. It's humorous, fast-paced, and a heck of a lot of fun. There's plenty to explore, several items to unlock, and easter eggs to spot. This is a must-have for retro-loving fans.
Please follow and like us: